Bitcoin is still seeing an impressive run but speculations on where the asset is headed next are running wild. A crypto analyst has shared their own expectations for the leading cryptocurrency, considering both sides of the coin and the possible price marks it can achieve.
Bitcoin Price Gunning For $40,000
In an extensive analysis, crypto analyst and trader FieryTrading has mapped out how the Bitcoin price could reach $40,000. The analysis which was posted on TradingView starting November 8 points out the fact that the BTC price has continued to trade in a tight bullish channel since October.
This was proven to be true when the price of the asset actually jumped above $37,000 later before the pullback to the mid-$36,000s. The steady recovery that has categorized Bitcoin dips since the rally began in October has been making higher lows, as the analyst points out. FieryTrading refers to this as something that shows that an asset is "classically getting ready for the next pump." Further adding that: "I think that the same goes for BTC."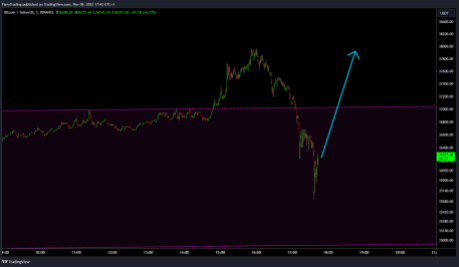 The analyst expects that Bitcoin will continue to move up in the coming, and their first target of $37,000 was already crushed on November 9. Then following this, the analyst expects "a retest of the top channel is to be expected as a confirmation of the break out."
Naturally, the price target for this resurgence has been placed at $40,000 by FieryTrading as long as the top of the channel mentioned has been hit. In a subsequent post, the analyst confirms that this has indeed happened.
BTC Marks Time For Recovery
In a November 9 update, FieryTrading revealed that Bitcoin has indeed hit the top of the channel which could lead to a rejection. However, the analyst explains that this rejection will only be temporary and could be followed by a breakout to the upside.  The chart marks a retracement after which, the price does move toward the $40,000 target.
However, it is not set in stone that a rally to $40,000 will take place, and like any analysis, there is always the risk of it being invalidated. FieryTrading points out that Bitcoin could see massive selling that could drag the price back down to $37,000. But even this does not deter the trader who believes "It's healthy if the price retests the top resistance of the channel."
The latest update to the analysis acknowledges a deeper crash than expected but it seems the analyst's forecast still holds. "Eyes open for V-shape bounce. Whipsaw longs & shorts at the same time while keeping the trend intact," FieryTrading says.