The cryptocurrency market has risen by 4% overall in the past 24 hours. Its total cap stands at $943 billion, representing a 3% drop in a week and a 26% fall in a month. Most coins have witnessed similar movements within the same timeframes, yet a handful have enjoyed above-average gains in recent days or weeks. Many of these also remain cheap, given the poor first half of 2022, meaning they could be in line for further rises. We round them up in this list of the 5 best cheap cryptocurrency to buy right now.
5 Best Cheap Cryptocurrency to Buy
1. Lucky Block (LBLOCK)
LBLOCK is up by 2% in the past 24 hours. At $0.00091412, it's down by 10% in a week though, and by 42% in a month. On the other hand, it remains more than 100% up since launching at the end of January.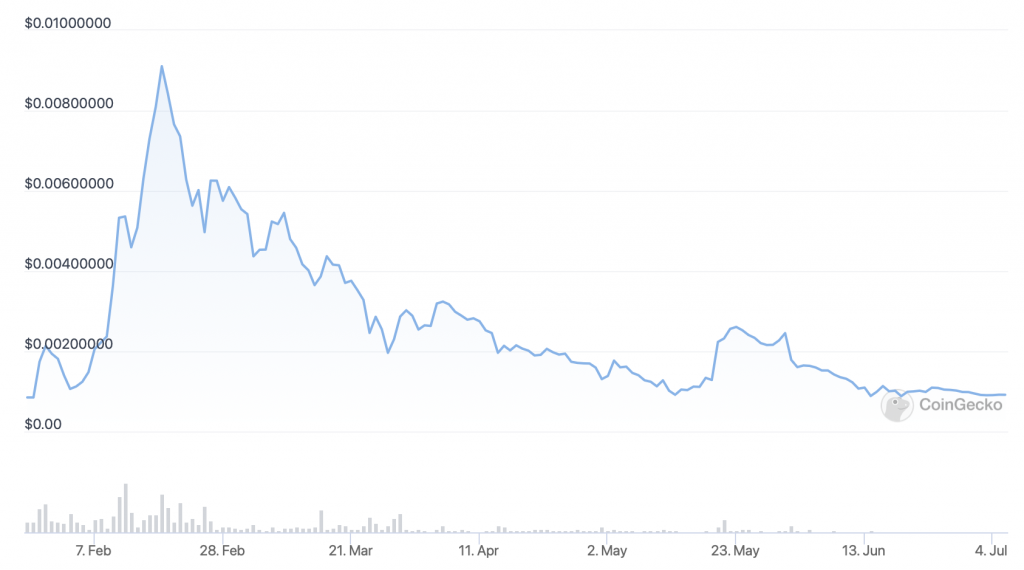 As a newer altcoin, LBLOCK has been disproportionately affected by the market downturn. However, its future looks bright, given that it's the native token of the Lucky Block crypto games platform. Launched on the Binance Smart Chain, the latter began holding regular prize draws at the end of May, which guarantee a minimum jackpot of $50,000.
Just as importantly, Lucky Block has passed the necessary audit for its upcoming ERC-20 token. This will mean it will likely migrate to Ethereum at some point in the near future. By extension, its relocation to Ethereum should expand its liquidity significantly, largely by paving the way for more centralised exchange listings.
Why have we created the V2 version of our #token? 🤔

After talking to #CEXs we realised that there's a need for #ERC20 version of the token to ensure about the future listings! ✅

So we're now in an amazing period of:#CountdownToCEXs! 🔥#cryptocurrency #crypto #blockchain pic.twitter.com/mnrbk6heDZ

— Lucky Block (@luckyblockcoin) June 30, 2022
When the ERC-20 version of LBLOCK launches, it should rally significantly. This is why it's one of our 5 best cheap cryptocurrency to buy at the moment.
2. Celsius (CEL)
At $0.972532, CEL is one of the top-1oo's biggest gainers today. It has risen by 13% in 24 hours and by 29% in a week, although it's down by 18% in a fortnight.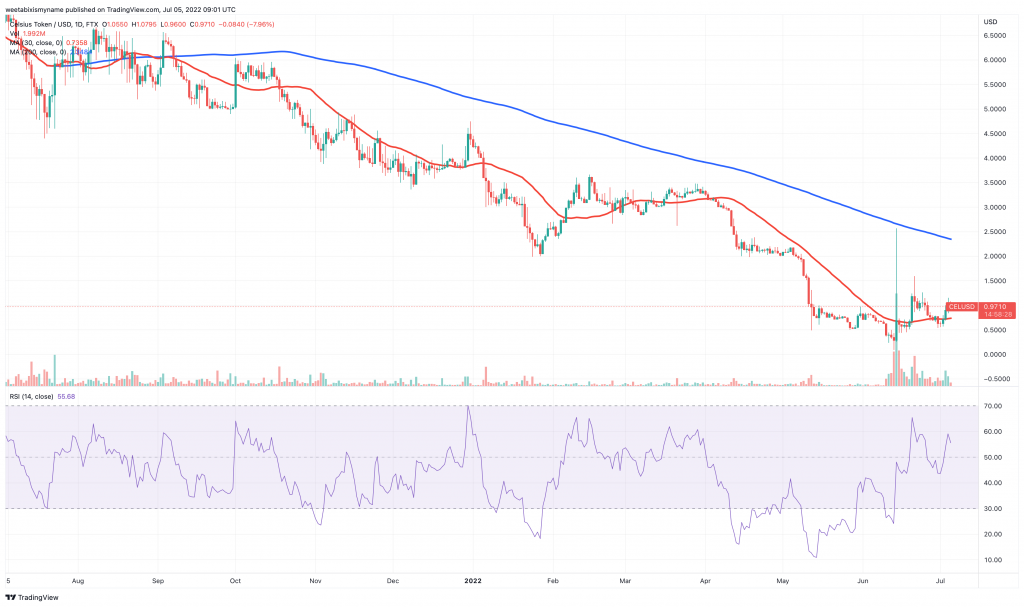 CEL's relative strength index (in purple) reveals a big surge in momentum. This has happened for two main reasons. Firstly, Celsius — which had been facing the threat of bankruptcy — has taken steps to stabilise its position. This includes paying off around $142 million of the debt it owes on Maker, with $82 million remaining. It also includes laying off 150 members of staff (25% of its workforce), in order to cut costs.
Such steps have raised hopes that Celsius may stave off complete collapse, and one day recover. On top of this, CEL seems to be benefitting from a short squeeze at the moment. In other words, because of Celsius' recent withdrawal freeze, many traders are trying to short it. Yet because shorting requires buying up an asset, short sellers are currently boosting its price. And the more the price of CEL rises, the more additional CEL short sellers have to buy to cover their positions.
BREAKING NEWS: #CelShortSqueeze TRENDING IN THE UK | The #CelShortSqueeze movement is taking over #crypto Power to the people. F Shorts.
🔥🔥🔥🔝🔝🔝 #CelShortSqueeze #CEL @CelsiusNetwork@CelsiansNetwork pic.twitter.com/c7g6Ziiert

— Shorts McBender (@IsCelsius) June 21, 2022
This squeeze could continue. Of course, with Celsius fighting for its life, buying CEL remains a big risk. But there's an outside chance it could pay off.
3. Polygon (MATIC)
At $0.513702, MATIC has risen by 12% in 24 hours. It has fallen by 3.5% in a week, but appreciated by 28% in a fortnight.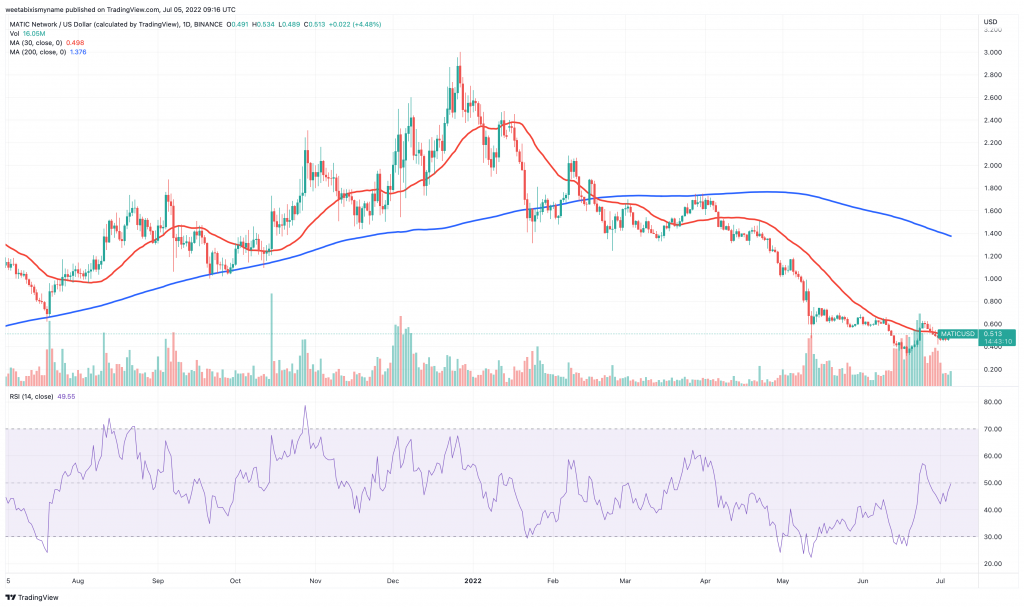 MATIC's RSI has climbed up to 50, indicating an increase in momentum. With its 30-day moving average (in red) well below its 200-day (in blue), there's plenty of room for it to recover.
The most bullish recent news in Polygon is that it has launched the testnet for Polygon Avail. This is an additional network which will enable Ethereum to store much of its transaction data off-chain, thereby reducing costs even further. As such, its launch signals greater use of Polygon in the not-too distant future.
Turning to the bigger picture, Polygon has also enjoyed some big adoption news in recent weeks. Most notably, Coinbase has selected the layer-two scaling platform as its network for sending transfers of ETH and USDC (as well as MATIC).
We're making it faster, easier, and cheaper to access web3: over the next month, eligible Coinbase customers will be able to send and receive ETH, MATIC, and USDC on @0xPolygon and USDC on @solana.https://t.co/vVLnk1DTZ2 pic.twitter.com/j93F4rKd6C

— Coinbase (@coinbase) June 23, 2022
Taken together, such developments underline why Polygon is the biggest layer-two scaling solution for Ethereum, and why it will remain so. This is why it easily makes the cut as our 5 best cheap cryptocurrency to buy.
4. Ethereum (ETH)
ETH may not be a cheap cryptocurrency in an absolute sense, but it's almost criminally undervalued at the moment. At $1,137, it's up by 8% today, but down by 5% in a week. It's also down by 37% in the last 30 days, and by 76% since reaching an all-time high of $4,878 in November.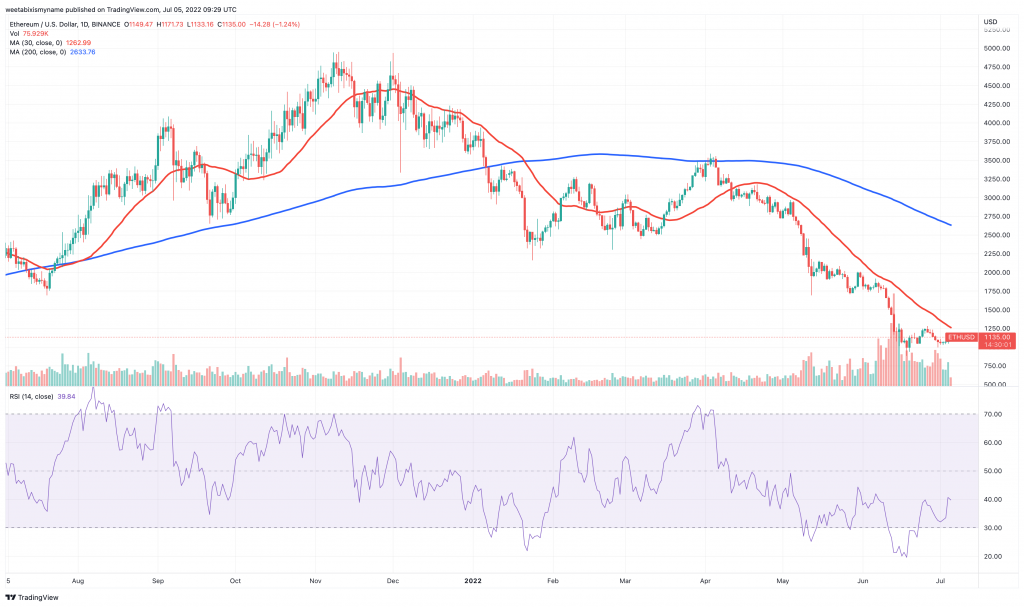 ETH's indicators reveal that the market is neglecting it just a little too much right now. Its RSI has been near 30 (and under 50) since May, while its 30-day average looks like it can't sink much further. In other words, technicals alone suggest that a rally is overdue.
In terms of fundamentals, there's little doubt that Ethereum is one of the strongest projects out there, if not the strongest. This is mostly because Ethereum is in the process of shifting to a proof-of-stake consensus mechanism. This will make the layer-one blockchain less energy intensive, more scalable, and more attractive to investors.
Quick update on Ethereum's path to The Merge 🐼 

✅ Devnets
✅ Ropsten testnet
☑️ Sepolia testnet (next week)
☑️ Goerli testnet
☑️ Ethereum mainnet

The Merge is coming 🔜

— Crypto-Gucci.eth ᵍᵐ🦇🔊 (@CryptoGucci) July 2, 2022
Due at some point in late summer, the 'Merge' will massively boost investor confidence in Ethereum. The introduction of staking will increase demand for ETH, and with 10% of ETH's supply already staked on the PoS Beacon Chain, the cryptocurrency could become deflationary. When you add the fact that Ethereum is already the biggest blockchain by total value locked in, it's easy to see why ETH is one of our 5 best cheap cryptocurrency to buy.
11/ At the current stake amount, the Ethereum network will be paying out ~600,000 ETH per year, instead of 4,850,000 under the current PoW model, or 88% less in "sell pressure"! At the same time, stakers will still be earning ~4.6% in their staked ETH, a nice return to attract.

— eric.eth (@econoar) June 10, 2022
5. Cardano (ADA)
ADA is another fundamentally strong but undervalued altcoin. Its price as of writing is $0.457303, representing a 1.5% rise in 24 hours, but a 6% fall in seven days. It's also down by 19% in a month.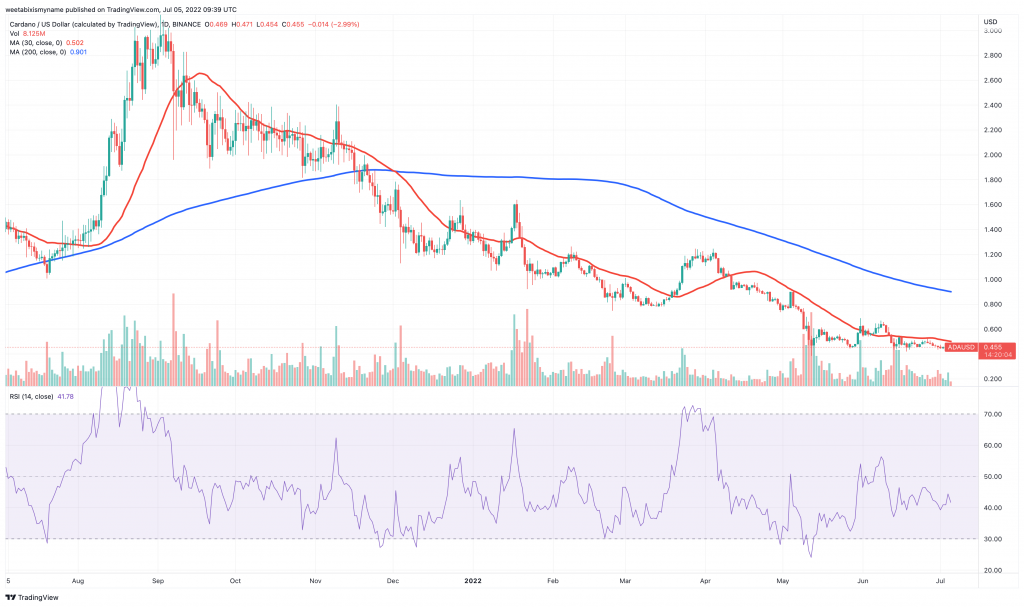 ADA's indicators remain subdued but show signs of a slight uplift. As with Ethereum, there are good reasons to suppose that ADA will enjoy a significant rally once market conditions become more favourable.
ADA's fundamentals come from native platform Cardano, which is witnessing an increase in transaction volumes and usage. It now records 24-hour transaction volume in the region of $8 billion – $10 billion, making it roughly three times busier than Ethereum right now. It has also issued 5.3 million NFTs, while the number of dapps building on its network has passed 1,000.
The ecosystem is growing at a fast pace with 1003 projects already #BuildingOnCardano

Many of these projects will be in Austin at @Consensus2022 & at the free #CardanoAtConsensus meetup on 6/08

Meet them by registering your attendance to the meetup here: https://t.co/maxUVW7pYV pic.twitter.com/s0X4DP8H48

— Input Output (@InputOutputHK) June 7, 2022
In addition, Cardano's total value locked in is up to $120 million, up from $1 million at the start of the year. Assuming that Ethereum suffers more delays in executing its Merge, and that its fees remain high, Cardano could capture more market share in the coming months. This would boost demand for ADA.
Capital at risk
Read more: