The cryptocurrency is inching slowly upwards after losses yesterday. Its total cap, at $922 billion, has fallen by 5% in a week, and by 32% in a month. It has, however, risen by 1% in 24 hours, along with most major coins. This invites hope for a weekend recovery, which the market is long overdue, even if macroeconomic conditions remain negative. As such, here's our pick of the 5 best cryptocurrency to buy for the recovery.
5 Best Cryptocurrency to Buy for the Recovery
1. Lucky Block (LBLOCK)
LBLOCK is $0.00095626 at the moment, representing a fractional (0.2%) increase in the past 24 hours. However, the altcoin is down by 12% in the past week and by 46% in the last 30 days.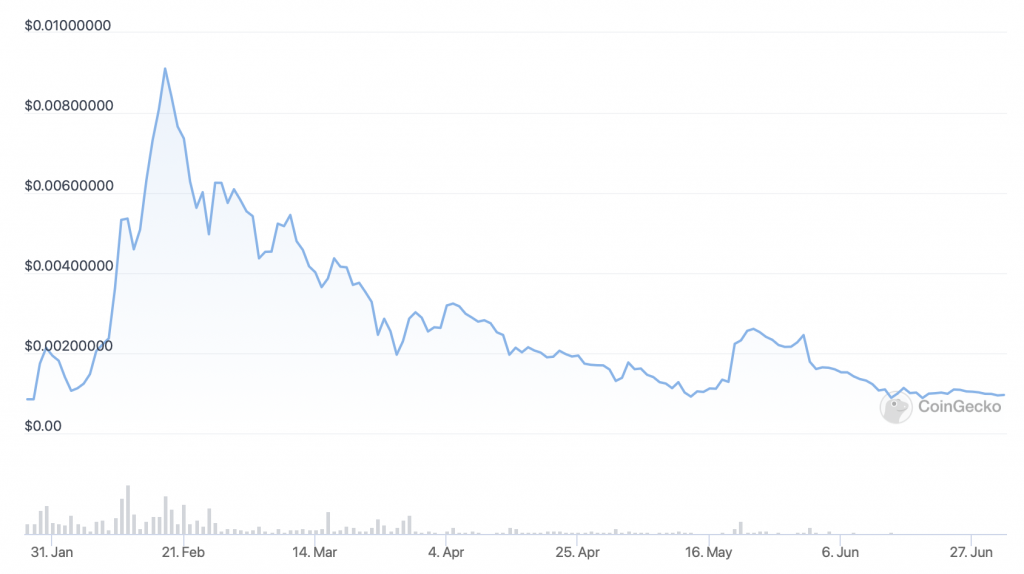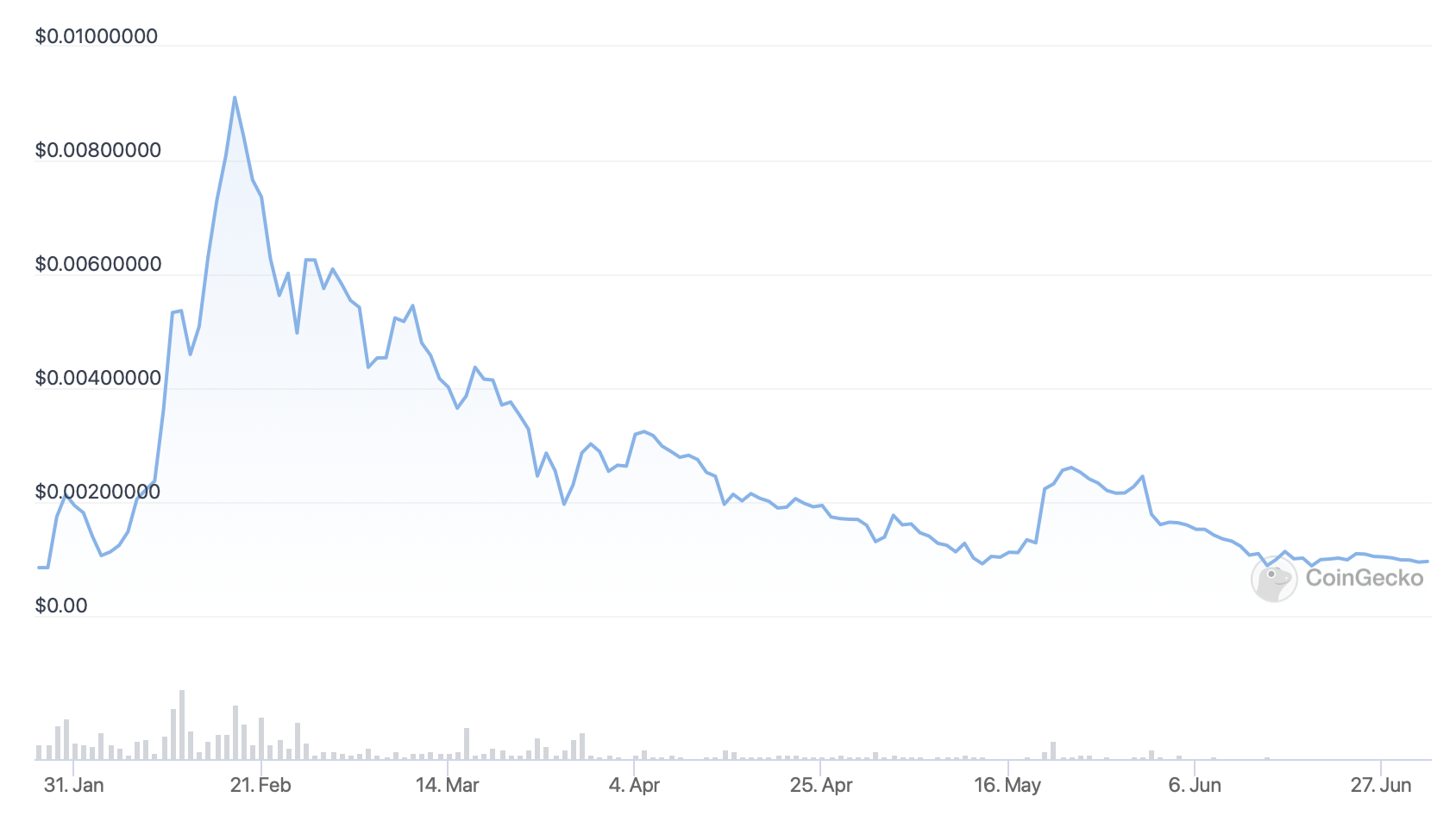 LBLOCK is down by 90% since its all-time high of $0.00974554, set in February. On the other hand, it's up by 120% since launching in late January.
That LBLOCK is still up since launching is a good sign for the future, and recent Lucky Block developments suggest that it could grow strongly when market conditions improve. For one, the Lucky Block crypto games platform is now holding regular prize draws, which guarantee a minimum jackpot of $50,000. On top of this, it has passed the audit for its upcoming ERC-20 token.
V2 token audit passed! ✅

That means that we're getting closer to listings on centralized exchanges! 🤩

Let the #CountdownToCEXs begin! 🥳 @SolidProof_io #crypto #audit #CEX #listings #blockchain pic.twitter.com/TZJMPdNOdZ

— Lucky Block (@luckyblockcoin) June 23, 2022
In other words, an Ethereum-based version of LBOCK is imminent. It had originally launched on Binance Smart Chain, yet a migration to Ethereum will open up significant liquidity for the coin. Likewise, it paves the way for more exchange listings, something which will expand its market substantially. This is why it's one of our 5 best cryptocurrency to buy for the recovery.
2. Bitcoin (BTC)
BTC is up by 1.5% in the past 24 hours, reaching $19,664. It had fallen as low as $18,780 yesterday, highlighting the possibility of further falls. And its current trend does remain negative, having dropped by 7% in a week and by 38% in a month.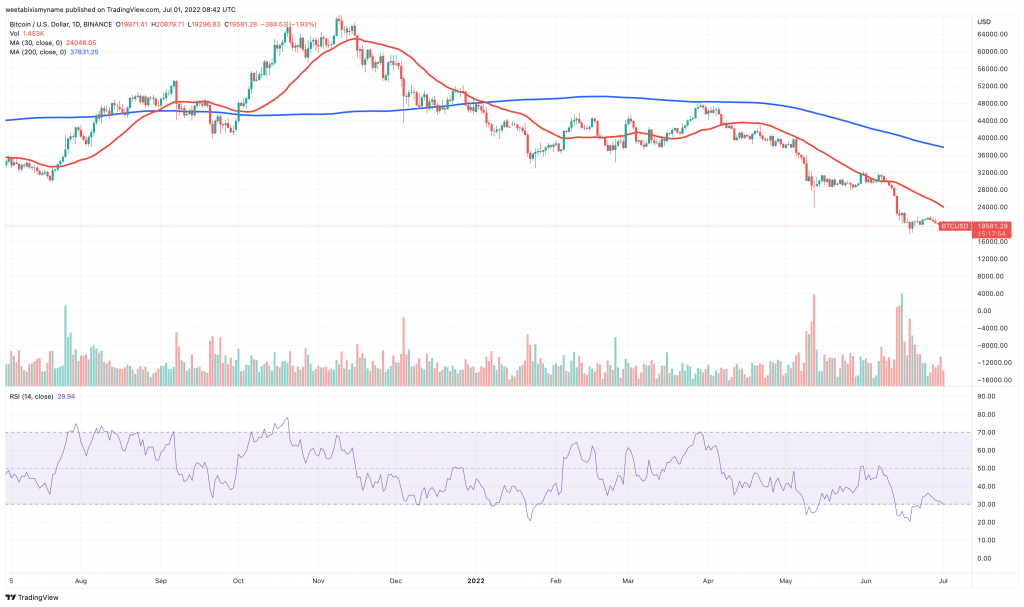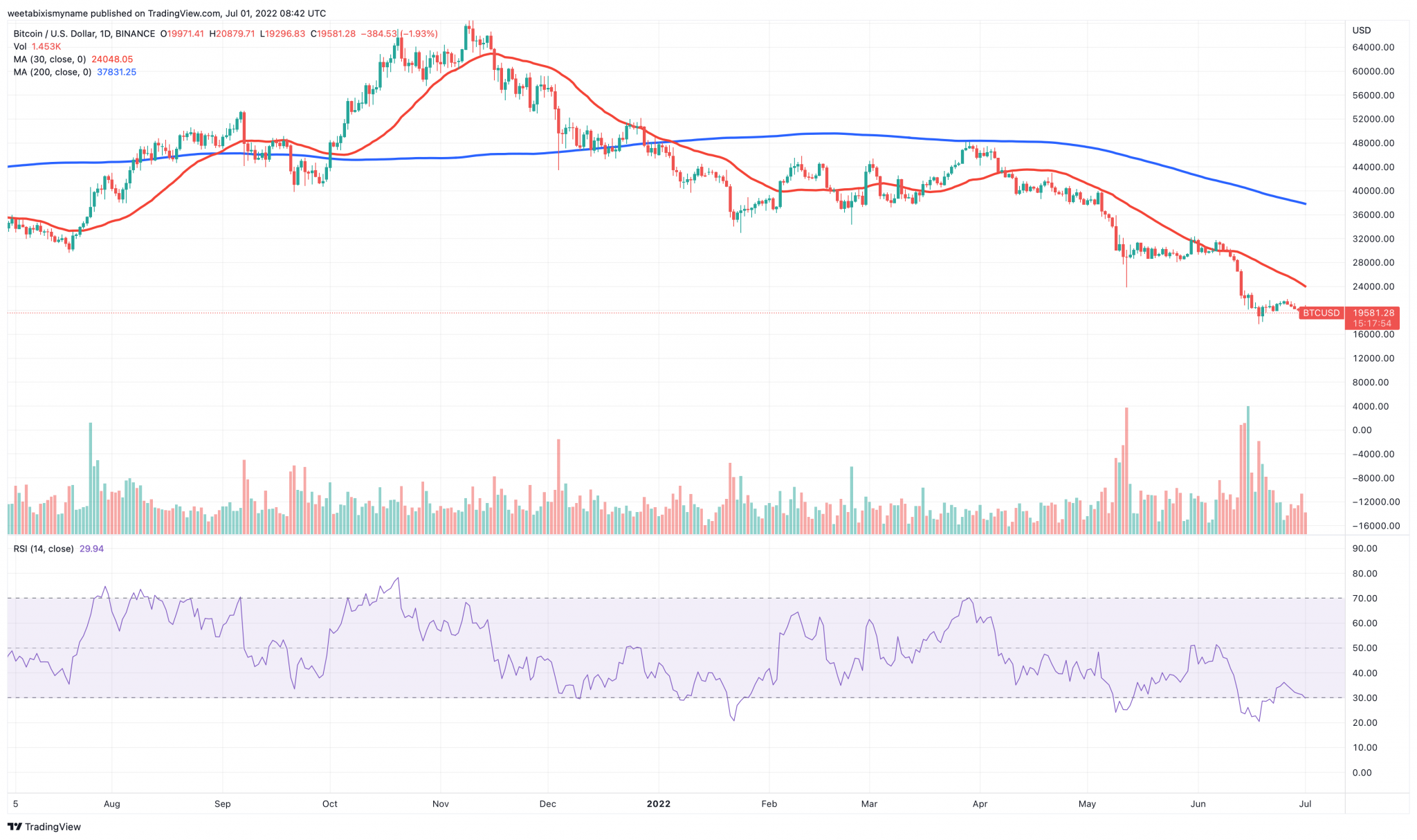 BTC's indicators are at a very low ebb. Its relative strength index (in purple) is touching 30, indicating that the market is overselling it. Likewise, its 30-day moving average (in red) has fallen to its lowest level relative to its 200-day average (in blue) for a year. This strongly signals an eventual recovery.
Bitcoin remains the market's leader for a reason. It commands around $26 billion in institutional investment, which looks set to rise in the medium-to-long term. For example, Jacobi Asset Management has just announced the launch of Europe's first-ever spot Bitcoin ETF. It will go live this month on the Euronext Amsterdam exchange, paving the way for more institutional and mainstream investment in bitcoin.
More generally, it's bitcoin that continues to attract outside interest. There continue to be nations which turn to BTC during periods of very high inflation (e.g. Turkey and Argentina), as well as those that have made it legal tender (El Salvador and the Central African Republic). This trend will most likely continue when the market becomes more positive again.
3. The Sandbox (SAND)
At $1.13, SAND has risen by 15% in a day. It's also up by 12% in a week and by 35% in the past 14 days. That said, it is down by 22% in a month.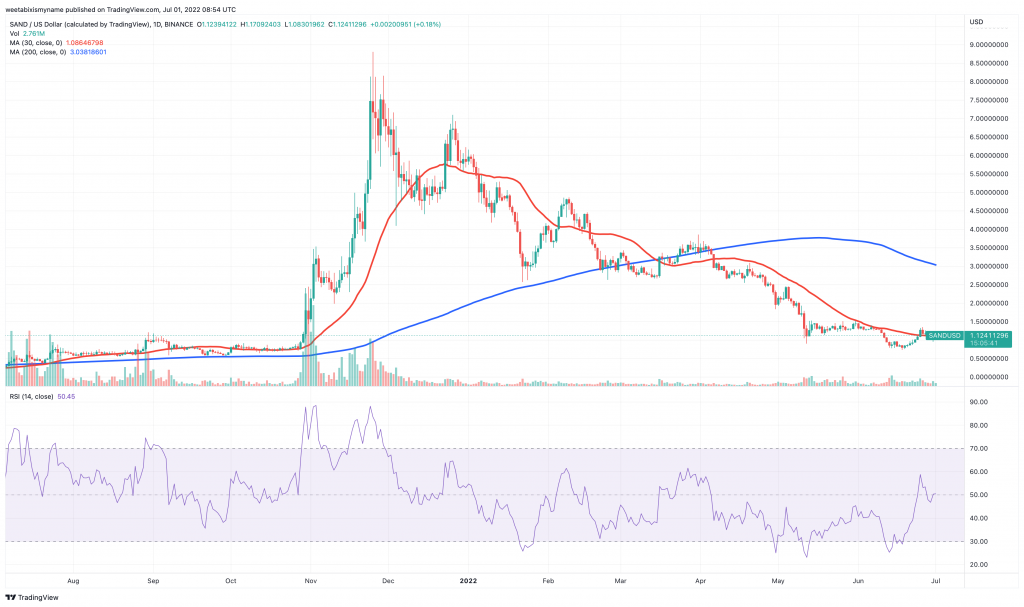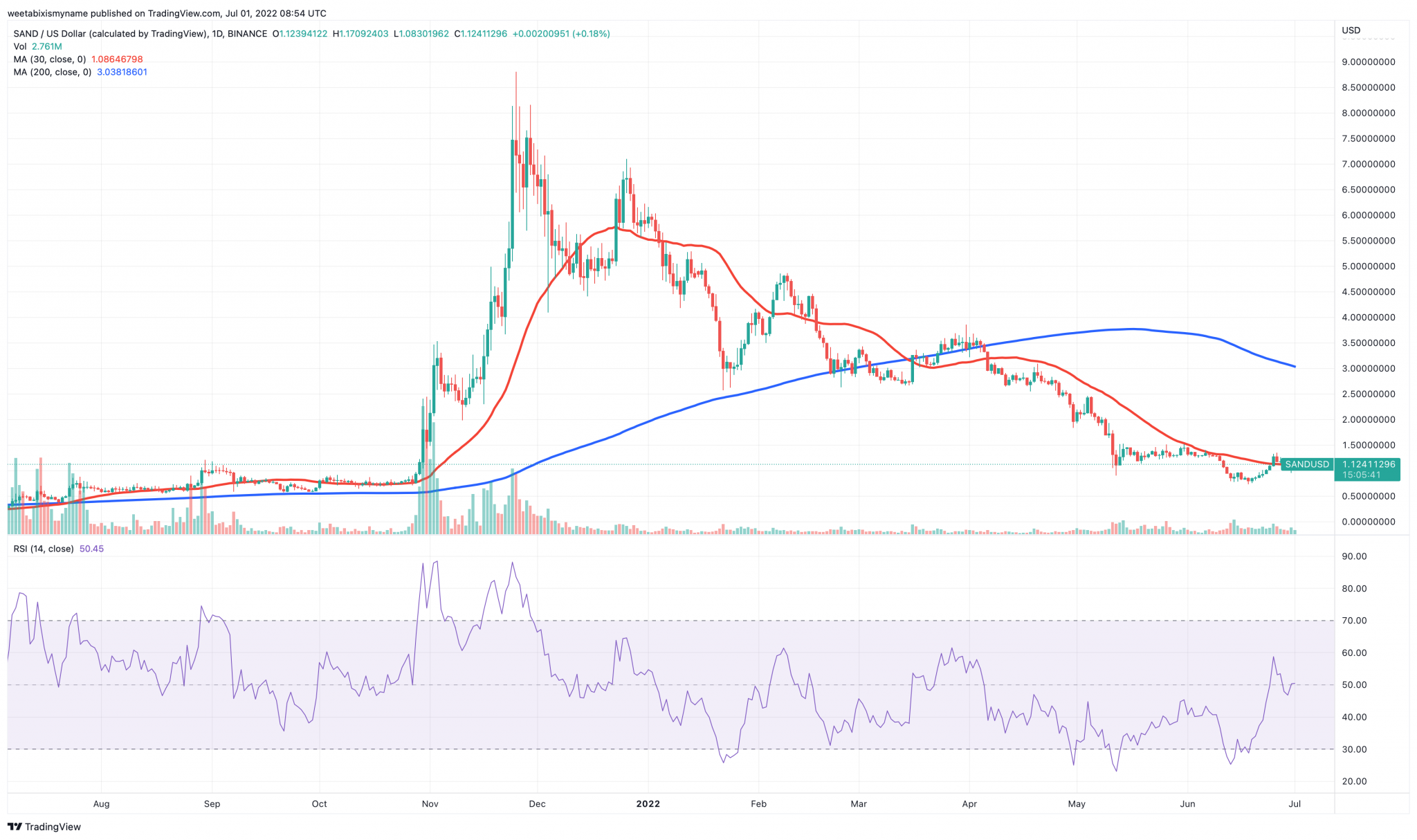 Looking at SAND's chart, it had been due a rally. Its RSI has fallen below 30, while its 30-day average had collapsed far below its 200-day. Of course, with conditions remaining challenging, it can't be said how long its current spurt will last.
It seems that SAND is rising at the moment due to the opening of bridge between the Sandbox and layer-two platform Polygon. This enables Sandbox users to transfer LAND non-fungible tokens and SAND to (and on) Polygon, something which lower costs and improve efficiency.
🌉 We are ready to deploy LAND to @0xPolygon 🌉

🔸Each LAND bridged grants a 10 mSAND cashback!
🔸LAND multipliers on both mSAND staking programs are back!
🔸LAND sales and LAND staking features (on Polygon) are coming soon!

BRIDGE NOW ➡️ https://t.co/jlcSKxuBWh pic.twitter.com/1tuAAsqEZP

— The Sandbox (@TheSandboxGame) June 28, 2022
Looking at the bigger picture, the Sandbox has witnessed plenty of high-profile activity on its gaming/metaverse platform. Most notably, hardware wallet manufacturer Ledger announced it had chosen the Sandbox as its first ever virtual location in the metaverse. This is a big endorsement for the platform, given the weight Ledger has within the cryptocurrency sector.
Welcome the LedgerVerse to @TheSandboxGame: Ledger's first step into the metaverse and the first to turn gaming into Web3 education. 🎮

Conquer quests, fight off scammers and win Web3 rewards. 🥇

Master crypto security.

Learn. Play. Earn. Coming summer 2022. pic.twitter.com/56kS9FLZK6

— Ledger (@Ledger) June 22, 2022
It's worth remembering that the Sandbox racked up around $350 million in sales of virtual land in 2021, more than any other similar platform. This highlights its potential, and also why we've included it among our 5 best cryptocurrency to buy for the recovery.
4. Ethereum (ETH)
ETH is up by 2.5% in the past 24 hours. At $1,072, it has fallen by 6% in the past week and by 45% in the past month.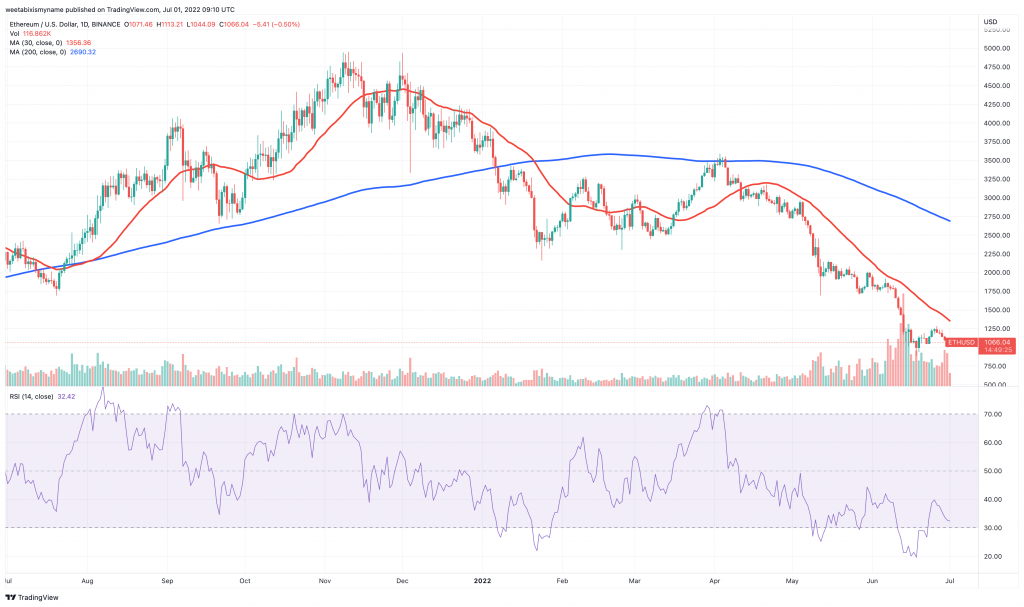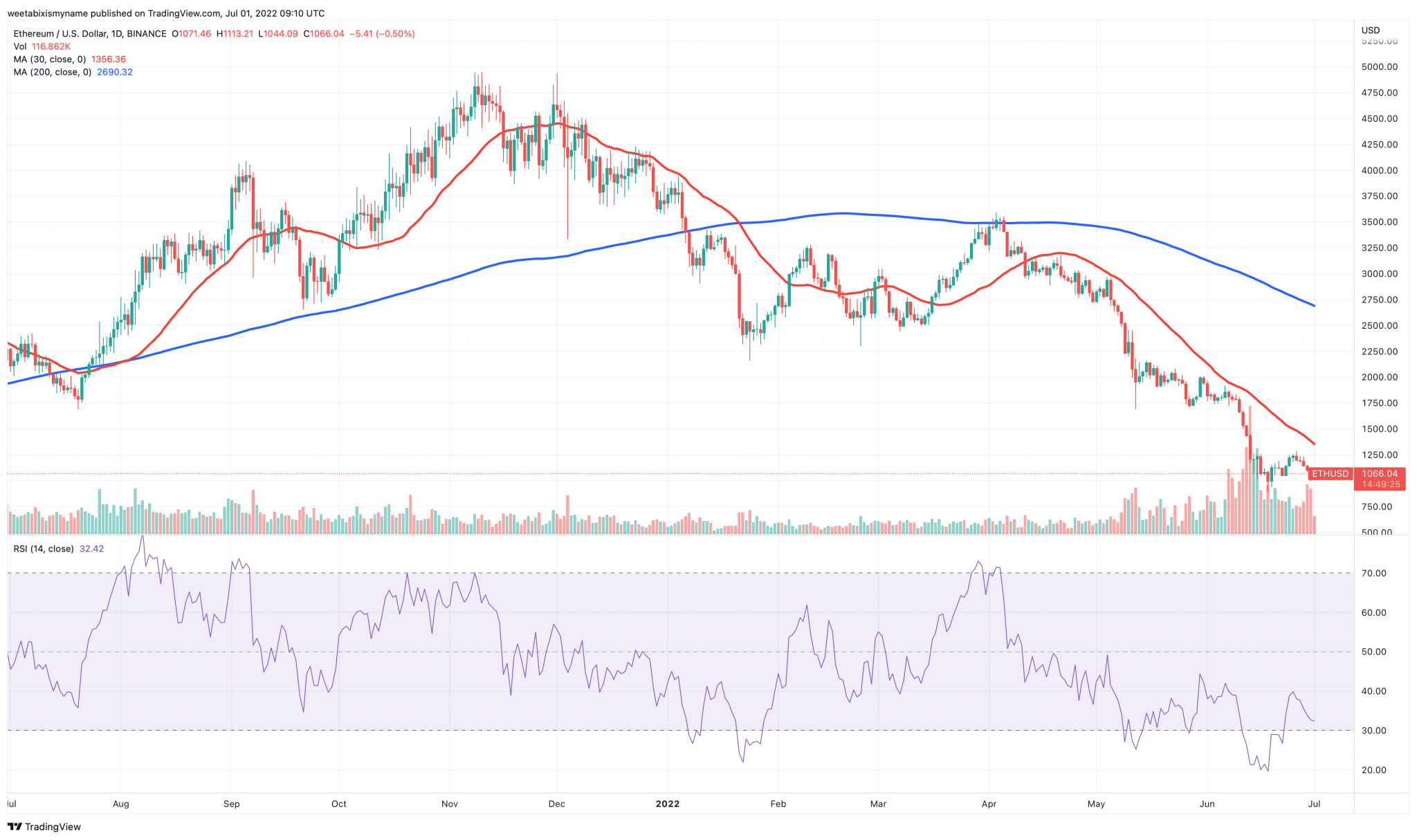 ETH's indicators are much like BTC's, suggesting a bottom. Its RSI is close to 30, while its 30-day average is far below its 200-day. Of course, the market is going through an unprecedentedly difficult time right now, so it's hard to say whether a rally is imminent.
Still, ETH has great medium- and long-term potential. This is largely because Ethereum is in the process of shifting to a proof-of-stake consensus mechanism. This will make the layer-one blockchain less energy intensive, more scalable, and more attractive to investors.
Congratulations to the #Ethereum community on a successful Merge on the Ropsten testnet.

There is over $22.78B in value staked and ready for the upcoming main-net Merge to Proof-of-Stake.

This represents 12.8M $ETH = 10.78% of supply.

Live Chart: https://t.co/PDQg3lCJCl pic.twitter.com/GiFI3BtSKa

— glassnode (@glassnode) June 8, 2022
Due at some point in late summer, the 'Merge' will massively boost investor confidence in Ethereum. The introduction of staking will increase demand for ETH, and with 10% of ETH's supply already staked on the PoS Beacon Chain, the cryptocurrency could become deflationary. When you add the fact that Ethereum is already the biggest blockchain by total value locked in, it's easy to see why ETH is one of our 5 best cryptocurrency to buy for the recovery.
11/ At the current stake amount, the Ethereum network will be paying out ~600,000 ETH per year, instead of 4,850,000 under the current PoW model, or 88% less in "sell pressure"! At the same time, stakers will still be earning ~4.6% in their staked ETH, a nice return to attract.

— eric.eth (@econoar) June 10, 2022
5. Arweave (AR)
AR is up by 20% in the past 24 hours, at $10. It has also risen by 2% in a week and by 15% in a fortnight, while remaining 35% down in the last 30 days.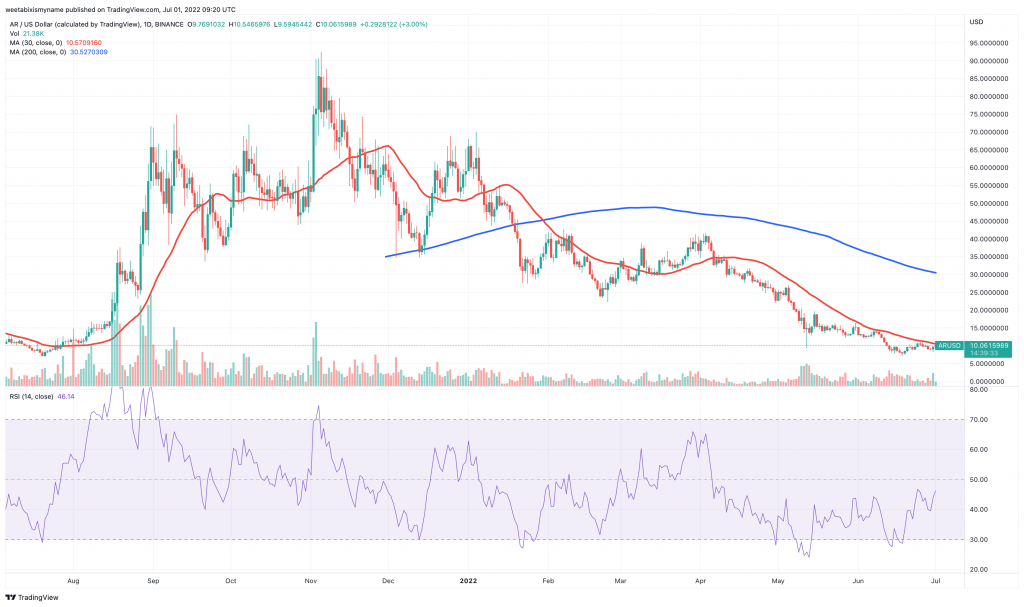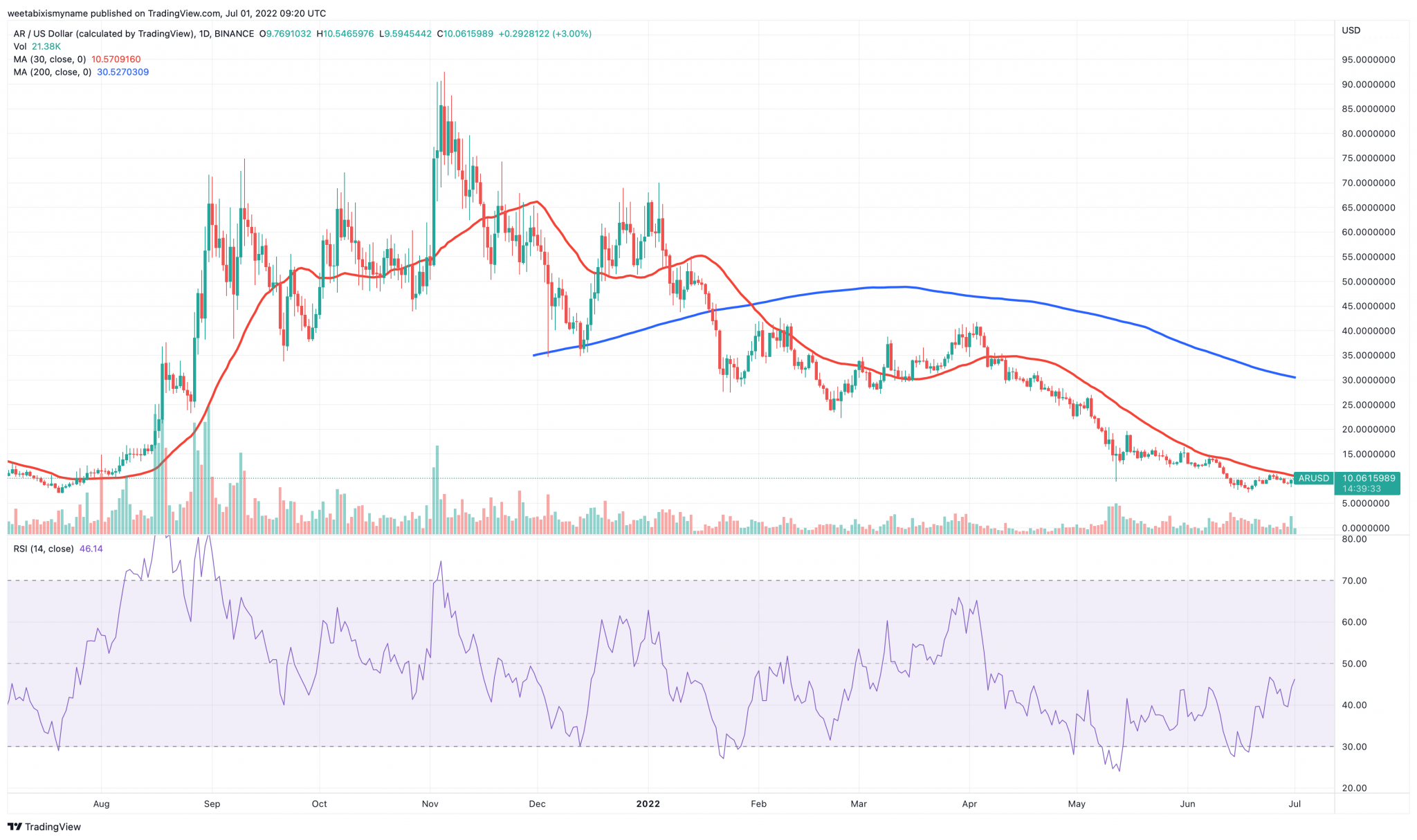 AR's chart shows a gradual increase in momentum. Its RSI has gone from under 30 a couple of weeks ago to nearly 50 today. At the same time, its 30-day average is still well below its 200-day, so there's plenty of room left for a bigger recovery.
It seems that AR is rallying right now due to the launch of Arweave's very own domain registry system. Basically, its Arweave's own version of the Ethereum Name Service, enabling users to purchase ArNS-based domain names using AR. This has caused demand for AR to rise as users move to claim their own domains.
Today we're launching our pilot program of the Arweave Name System (ArNS) – a Smartweave based directory of friendly subdomains enabled by https://t.co/ljKQFJO6vN gateways on the @arweaveteam permaweb!

🧵 1/3 pic.twitter.com/62tQDABgyz

— 🐘🔗ario.arweave.dev (@ar_io_network) June 29, 2022
Looking at AR's fundamentals, it's encouraging to note that Arweave — a decentralised data storage network — has witnessed rising transactions over the past year. From 1.75 million daily transactions August 2021, its traffic increased to 48.8 million daily transactions by May of this year. This figure has since declined, as a result of the market downturn, but it's likely to continue witnessing growth once the economic picture improves.
Your capital is at risk.
Read more: